If you have ever had a run-in with the police, then you may have an arrest record to your name. Even if you have never been convicted of a crime, an arrest record can still be a major hurdle that you have to carry around with you. Just like with having a criminal record, an arrest record can make it hard to find a job, an apartment, or get approved for a bank loan.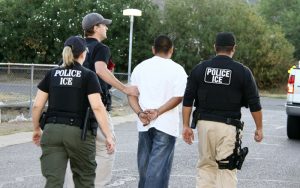 That is why you should know what your arrest record is. After all, if a potential employer or landlord can see what is on your arrest record, then you will want to be sure that you can also see what they are seeing.
Also, you may need to look up the arrest record of somebody you know. This could be for professional reasons–for example you may run a business and want to know if your prospective hire has a criminal history–or it could be for personal reasons, such as ensuring that the person you've arranged a date with does not have a violent past. We'll show you below some of the ways you can look up an arrest record.
Are Arrest Records Criminal Records?
First, let's address a question that confuses a lot of people: are arrest records the same as criminal records? In short, yes, the terms are usually used interchangeably. However, technically speaking a criminal record (or police record) is a record of all of your interactions with a law enforcement agency, including arrests, charges filed, convictions, warrants, and so on. Even if no charges are filed, there may still be a record of your arrest, which anybody authorized to do a background check on you can see. So you can think of your arrest record as one part of your broader criminal history.
Look Up Arrest Records Online
One way you can get a copy of an arrest record is by using an online background check service. Because many criminal records are protected by privacy laws, you will want to make sure you have the right to actually view another person's record beforehand. Some aspects of a criminal record are public, however, such as court records, mug shots, and sex offender registry status. The advantage of using third-party databases is that they are often free and they may compile arrest records from multiple jurisdictions into one place.
Look Up Arrest Records from Local Police
If you are looking for somebody else's arrest record, the easiest way to find it is by visiting your local police station. When requesting an arrest record you should know that while you can always access your own record, you may need special permission to access somebody else's record. For example, you can usually ask for another individual's arrest record if you are a licensed firearms dealer, an employer, or a school admission officer.
There are exceptions, however, depending on which state you live in. Montana makes almost all misdemeanor and felony arrest records public, for example, meaning you don't need special authorization to access them.
Many states now allow you to make an online request for your arrest record, usually for a small fee. This service is typically provided through the state police's website or through the website for the judicial branch of the state you live in. You will need your Social Security Number and other contact details in order to request an arrest record. If no online request system exists in your state, then you will have to visit the police department in person.
Visiting a Courthouse
Your county courthouse is another excellent source of information on arrest records. The courthouse should have a record of all arrests, charges, and convictions filed within the county. This makes the courthouse ideal if you are looking up historic arrest records, which can prove useful for those doing research into their family trees. Some courthouses allow for online record requests, while others require you to file a request in person with the clerk of courts.
Looking up a Federal Arrest Record
Because law enforcement duties in the U.S. are split between the state and federal levels, you should not limit yourself to looking up arrest records through your local police alone. A state arrest record will often only include arrests made within one state. Obviously, that means some important information could be missing from your state arrest record. For a more complete record, you will need to request an Identity History Summary through the FBI. An Identity History Summary is essentially a criminal record that covers the entire United States and is made up of information reported to the FBI by local and state law enforcement agencies.
With very few exceptions, you cannot request an FBI Identity History Summary for someone else, only for yourself. To look up your federal arrest record, you will first need to complete an application online through the FBI's website. You will also need to send the FBI a copy of your fingerprints, which you can have made through your local police department. Finally, submit the documents by mail and pay the fee and the records will be mailed to the address you provide.