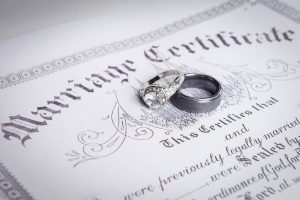 Getting married in Las Vegas has become an iconic experience, with over 80,000 marriages performed in the city each year. Although the number of weddings has declined somewhat over recent years, Las Vegas is still a city that fosters romance in grand and spectacular way. If you are considering getting married in Las Vegas, you should be familiar with the state and local laws that apply.
General Information
Marriage licenses are available at the Clark County courthouse.  A number of requirements must be filled in order to issue a marriage license in Las Vegas
Individuals who wish to get married in Las Vegas must appear in person before a clerk at one of the Clark County Marriage Bureau locations.
Individuals must be 18 years of age in order to get married. Individual under the age of 18 require a signature of parents.
You must show identification when applying for a marriage license that supplies your legal name and age. Accepted forms of identification include a driver's license, driver's permit, ID card issued by a U.S. state or territory government, military ID card, passport, U.S. citizenship certificate, certificate of naturalization or permanent U.S. resident card. You must also provide a social security number to receive a license. You do not have to show your social security card to receive a marriage license.
A marriage license is issued on the same day on which the couple applies for it. There is no waiting period.
The individual who performs the marriage ceremony has 10 days to submit the documentation to the county clerk's office for the marriage to be recorded.
Marriages can only be performed by clergy or other officials who have permission from the state to perform marriages.
Blood Tests
No blood tests are necessary for getting married in Las Vegas. This part of the law makes it easy for those coming to the city for a short period of time to get married without the delay of arranging pre-marital testing.
Restrictions
There are no restrictions on same-sex marriage or interracial marriage in the state of Nevada. Couples who are from outside the United States can get married in Las Vegas, but they should check with their home governments to determine the documents needed to establish a legal marriage in their country.
Previous Divorces
If you have been married before, you will have to provide information about the city and state in which the divorce was granted, as well as the date it was granted. The divorce must be finalized. You are not required to provide the divorce decree.
Pre-Application for Marriage Licenses
Clark County also offers a process to pre-apply for a marriage license which is available online to facilitate the process of receiving your marriage license. The pre-application form is kept on file for 60 days.
Understanding these laws in advance of your wedding trip will ensure that you have all the information and documentation you need to get married. You can then be fully ready to enjoy the unique experience of a Las Vegas wedding.